Armstrong Alterna

For lasting beauty, comfort, and unmatched performance, Alterna™ luxury vinyl tile delivers.
Shopping for a different kind of vinyl floor? Armstrong's new luxury vinyl floors may be just what you're looking for! Alterna is the luxury vinyl tile that looks like ceramic tile or stone, while Luxe Plank luxury vinyl (a "Best New Home Product" in 2010 from This Old House magazine) looks like hardwood.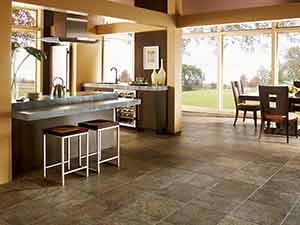 The refreshing beauty of slate and stone comes to life in the brilliant colors and diverse patterns of Alterna and Alterna Reserve. These inspiring collections feature the textural appeal of embossed clefting, rich tonal ranges, and a soft gloss that captures the look of natural slate and stone polished by time. Create distinctive spaces in your home with the luxurious looks of Alterna slate and stone.
Armstrong's luxury vinyl floors are made to last. Both Luxe Plank and Alterna are made up of three primary layers. The top layer is a protective wear layer that provides resistance to scratches and scuffs. This wear layer is combined with a clear film layer that adds more durability and helps protect the luxury vinyl floor against rips, tears and gouges. The second layer is the printed design layer that offer realistic ceramic, stone or wood visuals. The bottom layer is the tile backing, which adds structural strength and durability.
You have to see and feel these luxury vinyl floors to appreciate the difference. Alterna vinyl tile is soft and warm underfoot, and offers the most natural and realistic ceramic or stone looks you'll find anywhere. Luxe Plank luxury vinyl floors also offer highly realistic looks – only in hardwood colors and textures. Luxe Plank even comes in authentic plank lengths and widths, with beveled edges and ends.

Congoleum has a rich history in the flooring industry. Since 1886 Congoleum has been committed to developing innovative flooring products that push the industry forward. Congoleum holds numerous patents for novel creations over the years and these patents have resulted in products that are like no others in the industry.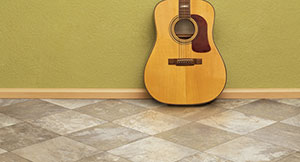 Alabaster
Alabaster captures the contemporary, upscale look of travertine tile which is a popular high end visual regularly featured in decorating publications. The versatility of Alabaster lends itself to a perfect backdrop for casual or upscale decor.
Stone Ford
Stone Ford provides the simple, "goes anywhere" look of sandstone. Revered for its light, creamy elegance by the Ancient Greeks and Romans, sandstone has timelessly held a classic appeal throughout the centuries. The rich, clean look of Stone Ford will work well in any decorating scheme.
Sunstone
Sunstone features the beauty of premium grade granite, the oldest, strongest, and hardest stone available. The stylish colors highlight the intrinsic character found in granite, and make a perfect design statement for any home.
Textured Slate
Textured Slate has a unique look, almost a combination of natural slate and rich Athenian marble. Textured Slate exudes an exceptional warmth and texture that can be interpreted as rustic or contemporary depending on the surrounding design elements.

Inspired by nature and designed for living, you'll find our floors are beautifully realistic and highly practical. Throughout your home, Karndean Designflooring USA can provide you with the perfect floors for your space, your needs and your style.
Karndean Designflooring is a world leader in recreating the look and feel of natural flooring products such as wood and stone in practical and durable luxury vinyl tiles.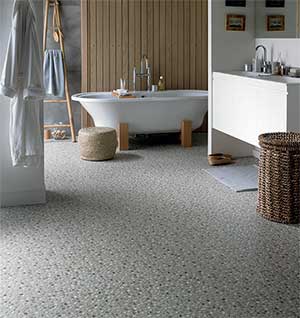 We supply homes and businesses with Designflooring, floors that are stunning to look at yet easy to look after. Each comes with a selection of customizable features so you can create something really special and personal to you. With so many styles, finishes and formats to choose from, everyone can find something to suit their personal style.
Realistic, natural effects
Karndean has a heritage of hand selecting the raw materials that inspire our products. Designflooring provides you with realistic wood and stone effects but with none of the practical drawbacks of the materials that inspired them.
Practical flooring designed to last
Our flooring can cope with the daily demands of busy family life. Stain resistant and easy to clean, Karndean floors can handle water spillages without warping, and a dropped mug or plate without chipping or cracking. Unlike carpets, our floors don't harbour dirt, dust mites or bacteria.
Designed to last for many years, each floor is guaranteed for up to 20 years. Should any tile or wood plank be damaged, a spare can be fitted quickly by your installer. This is far more cost effective than damage to a portion of carpet or laminate, when the whole floor often has to be replaced.
Personalize your living space
Create a floor that's unique to your home by adding a border, feature or design strip. Each range has a wide choice of complementary effects to choose from.