Armstrong

Vinyl sheet floors remain one of the most popular flooring categories. And what's not to love? Vinyl sheet is available in a wide range of looks; it's durable and easy to clean. Vinyl sheet also comes in either 6' or 12' rolls, which means you won't have seams where you don't want them. Stop by Carson Flooring today and learn more about vinyl sheet flooring.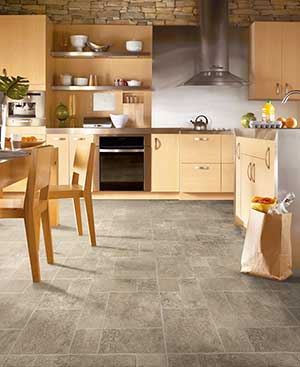 Vinyl Sheet Flooring Durability
Armstrong vinyl sheet floors are tough and durable. You won't have to worry about pet nails or dropped toys on these floors! All of our vinyl sheet products come with the toughest wear layers available. That means under normal household use, our vinyl sheet floors won't rip, tear or gouge. Guaranteed.
The story with vinyl sheet begins with the "look." You've probably noticed there's a trend in home design towards "natural realism," where home products look and feel like objects found in nature. We call it "bringing the outdoors in." With our vinyl floors, we use cutting-edge print technology to produce beautiful floors that look like different wood species, or limestone, sandstone, slate and other natural materials. What natural look are you searching for in a floor? You can probably find it in our vinyl sheet collection!
In addition to refreshing, natural looks, Armstrong vinyl sheet floors are also easy to keep clean. Many of our vinyl floors have the CleanSweep wear layer that protects floors from stains, spills, scratches and scuffs. With your Armstrong floor working so hard for you, all you have to do is sweep regularly and mop occasionally with Armstrong Once 'N Done to keep your floor looking beautiful.